Features
Undersun's resistance bands provide 5 different levels of resistance and can be combined to create countless types of exercises. Whether you want to burn fat or build muscle, take their interactive TA2 fitness personality quiz to find the best workout routine and product for you.
Design
All Undersun resistance bands are made of 100% natural latex The X-Light and Light bands have been crafted for upper body routines while the heavier Medium, Heavy and X-Heavy bands are more appropriate for squats, deadlifts and other leg exercises. One negative might be that you'd need gloves for a more comfortable grip as the bands do cause some friction.
Package
Undersun offers three different bundles: Muscle Building, Fat Loss and TA2 Size On. With all of them you get a 5-Band Set, Black Door Anchor. and an undersun travel bag. The only difference is the 90-day digital program which is customized for each of the three workout plans.
Price
The Undersun package is on the pricier side at $129.95 but given the company's reputation it might be worth the investment.
---
VISIT SITE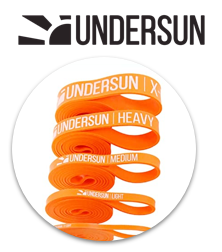 8.8
Undersun Fitness
GREAT
$129.95
8.8
$129.95
VISIT SITE
FEATURES
---
100% Natural Latex
5 Resistance Levels
Personal Workout Program
Flexible Material
Ideal For Crossfit
Suited For Daily Use
Maximum Potential
No Handles Or Straps
No Stitching
More Suited For Crossfit
VISIT SITE
FEATURES
---
100% Natural Latex
5 Resistance Levels
Personal Workout Program
Flexible Material
Ideal For Crossfit
Suited For Daily Use
Maximum Potential
No Handles Or Straps
No Stitching
More Suited For Crossfit
VISIT SITE