Features
If you're all about colors, Gorilla Bow is your best bet. Their ropes come in green, blue, yellow, and red as each color offers a different amount of weight that fits directly on the included bow. Great for a complete body workout including chest, shoulder, legs and core.
Design
The Original Gorilla Bow is inspired by the fundamentals of an ancient bow which makes it ideal for strength training. Designed with aircraft-grade all-aluminum construction giving it a weight capacity of 300lbs while weighing a total of just 6lbs. Take Gorilla Bow anywhere and set up your own colourful gym on the go.
Package
Gorilla Bow offers 4 packages: The Basic Bundle, The Heavy Bundle, The Ultra Bundle, and the Total Bundle which includes all extras such as additonal weight bands, straps and a bow bag.
Price
The Basic Gorilla Bow bundle and its colorful resistant bands are available for $199 which makes it the most expensive option on our list.
---
VISIT SITE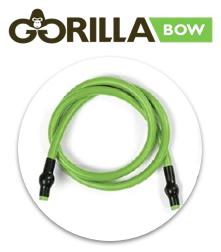 7.7
Gorilla Bow
GOOD
$199
7.7
$199
VISIT SITE
FEATURES
---
Professional Elastic Rope
Varying Reviews
Leightweight
Durability Concerns
Stackable Weight
Doesn't Include Handles
24/7 Online Support
Limited Info On Product
4 Different Colors
Expensive For What You Get
VISIT SITE
FEATURES
---
Professional Elastic Rope
Varying Reviews
Leightweight
Durability Concerns
Stackable Weight
Doesn't Include Handles
24/7 Online Support
Limited Info On Product
4 Different Colors
Expensive For What You Get
VISIT SITE