Features
The 4KOR Elite Forces Strength System is equipped with 5 different resistance levels (3 lbs, 7 lbs, 12 lbs, 17 lbs, and 22lbs) and two cords for each of them.
Design
4KOR uses a durable hole and plug connection manufactured with shoulder and core strengthening in mind. The material is made to sustain heavy duty use and thousands of repetitions.
Package
The 4KOR 5 Level Resistance Cord Set includes 10 resistance cords, a fitness belt and 2 exercise charts developed by strength coach Dr. Teddy Willsey.
Price
The 4KOR Elite Forces Strength System has a hefty price tag of $164.95. It doesn't seem to be the best value for money, especially when considering it is more suited for upper body workouts.
---
BUY NOW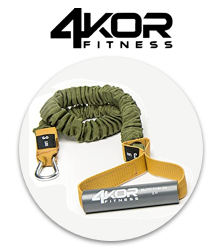 7.9
4KOR
VERY GOOD
$164.95
7.9
$164.95
VISIT SITE
FEATURES
---
High-Quality Materials
5 Levels Of Resistance
Great For Shoulder Training 
Suited For Upper Body
Two Cords
Varying Reviews
Athlete Approved
More Suited For Athletes
Exercise Guides
Very Expensive
VISIT SITE
FEATURES
---
High-Quality Materials
5 Levels Of Resistance
Great For Shoulder Training 
Suited For Upper Body
Two Cords
Varying Reviews
Athlete Approved
More Suited For Athletes
Exercise Guides
Very Expensive
VISIT SITE